Orders or queries? Contact our expert buyers directly or call 020 7720 7758 / orders@eurosalad.co.uk.
PRODUCT OF THE WEEK - COLOURED CAULIS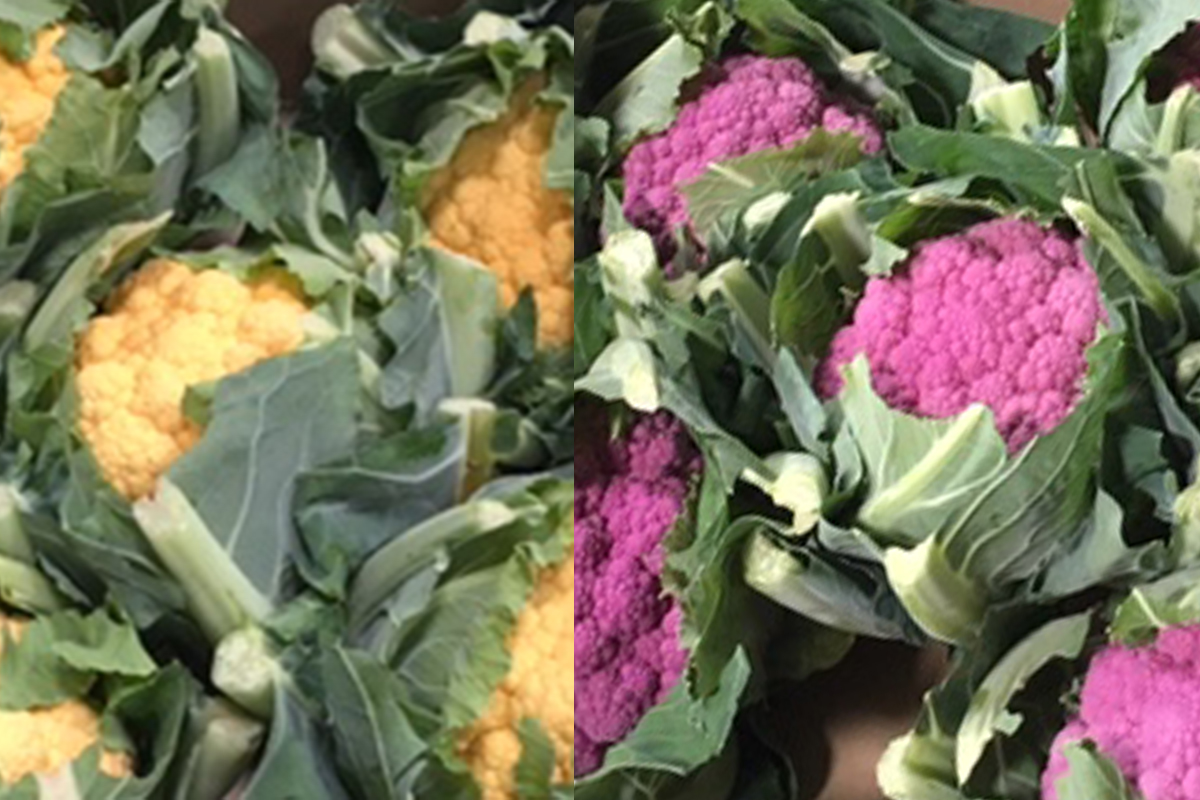 Purple, orange and yellow.
Sourced from France, these colours are higher in antioxidants than normal caulis. Green - a.k.a. alverda - also available.
WEEKLY HIGHLIGHTS FROM MILAN MARKET
Our buyer Tess says: "In Milan temperatures are soaring up as far as 37C. The schools have already gone on summer holidays. Fruit in general is amazing with just about the full range now. This week saw the yellow percocca peach start. Black and green figs are big and beautiful now. Watermelons should be their normal huge size by now. But late frosts in May knocked some back - that said I just found some whoppers. For something different, tenarumi - the shoots of the courgette plant - has come in too, delicious with pasta! It's bigger relative the pumpkin plant is also about now. From the family farm I found mallow, a weed to us but eaten in Italy. It is also still used for its medicinal properties for bronchial problems or in a poultice for wounds. Tomatoes of all shapes and sizes are also having their last blast before the heat sees them off, putting out a stunning display today. Looking forward to seeing the tiny facibedda pears, white peaches and nectarines."
Tess also recommends: Delica squashes, broad leaf rocket, borlotti, courgettes of all kinds, fennel, Tropea onions, trevise, wild fennel, tomatoes (Camone, Datterino, San Marzano, Vesuvio, Zebrino), Abate and Decano pears, cedro, plums.
CONTACT TESS, OUR ITALIAN BUYER: 07766 654732 / tess@eurosalad.co.uk
WEEKLY HIGHLIGHTS FROM RUNGIS MARKET
Our buyer Andy says: "The main focus is stone fruit . Everyone has moved onto French peaches and nectarines. The stunning stone fruit from Corsica has just started, exquisite fruit. Flat peaches from Les Canard des Clairettes are in tip top nick. Not to be outdone apricots are in fine fettle, with the lovely, delicately flavoured Vanillacot just starting! Cherries also continue to flood into the market, something to suit everyone's taste at the moment, if not everyone's pocket. Sour cherries will be another week or so for those of you who are asking. We're starting to work with a new supplier of organic herb pots from in Provence, Saint Rémy Basilic, although basil is far from the only variety they do. In veg big news is the start of the Coco de Paimpol, which as usual are commanding big money as the season kicks off."
Andy also recommends: Gariguette strawberries, French haricots, Prima grapes, courgettes, tomatoes, figs.
CONTACT ANDY, OUR FRENCH BUYER: 07810 504512 / andy@esc-foods.co.uk
ESC DIRECT
OUR BESPOKE, WHOLE-PALLET ONLY WHOLESALE SERVICE
Our buyer Gaelle says: "FRANCE: courgettes are still very short, price is quite high, there won't be much volume for another week. Artichokes from Brittany are available, but prices are going up as volumes are slightly lower. Leek price is still quite high although it seems to be going down slowly and the quality is beautiful. The first coloured cauliflower have started, with decent volumes but price is still high compared to the Dutch but will keep going down. The heritage tomatoes are beautiful and available in volumes. Carrots available and the prices are going down. Cauli price has dropped hugely and is now accessible X 6 heads. Iced broccoli price is accessible due to high volumes.
SPAIN: The last courgettes are still going and in demand as the French price is higher and there are no volumes. Red chilies are back on the market - beautiful quality and very accessible. Melons - Cantaloupe, green and yellow - are available in big bags or boxes. Figs have now started but the volumes are quite shy still.
MOROCCO: pumpkins are available. Red chilies volume has increased and the price is very reasonable even low. Green chilies are slightly shorter and price is going up. Seedless watermelon price is a little lower as more volumes are on their way."
CONTACT GAELLE, ESC DIRECT: +33 789 866 675 / esc.direct@hotmail.fr
ALSO OF INTEREST …